About Me
GrandMaster Raziel

I live in Scotland but I'm originally from Texas. I've been an avid gamer since the early '80s and have played just about every game out there. I have a lovely wife and 5 children, so getting the life / gaming balance is always important.
View my complete profile
Blog's of Renown
Blogging about Space Hulk

-

Written by Ron Saikowski, October 10, 2020I've decided to start blogging and sharing my Space Hulk material. Space Hulk: Boarding Mission Space Hulk has al...

2 years ago

How to paint Rusty Krieg??

-

Long time no see! Among the many projects I have been working on, and yes I do still live... are some Krieg. I was inspired to do some Krieg by my friend ...

4 years ago

Maelstrom's Edge

-

Over the last couple of years, hobby time has been at a premium, and what time I've had has been dedicated to a project that I can say I'm very excited t...

7 years ago
Post Cloud
Excellent Sites of Interest
Popular Articles
Hi Folks Just posting some pics of some new additions to my Eldar force... a Steampunk themed Dark Eldar force.  It's only about 2000 ...

Okay, I have been back a week now and had time to digest the events of last weekend.  I had a great time, lots of bad luck, and scored s...

Hi All that see this! First of all, Happy New year and all that.  I hope Santa brought everyone plenty of shiny new war machines to play w...
Subscribe To


Posts


Comments
Thursday, 23 September 2010
10:43 am | Submitted by GrandMaster Raziel |
Hello Everyone
I was going over some models I need to paint and noticed that I've nearly completed all of my HQ units yet other elements of the army have lagged behind. This got me to thinking about why have I clearly put alot more effort into finishing these guys over the rest.
Now I am the first person to try and save time, money, and effort when it comes to painting yet I have went over the top on some of my top models, here's a pic to show this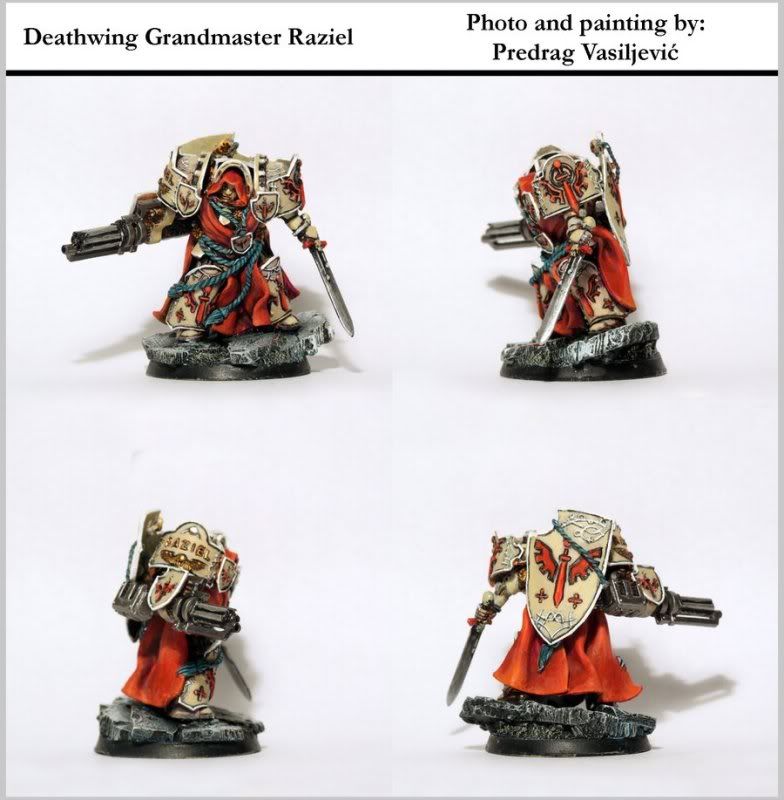 My Deathwing centerpiece
I commissoned this model from Scibors Monsterous Creatures and had my friend Hypodermic over on
The Underground
to paint it up (my attempt was woeful at best). I could of got a medium sized army for the costs but I am so happy to have done it. And I've seen other armies online and at local events where people clearly lavish alot more time and love on these units.
GM Raziel outside his residence
I remember years ago using figures in role-playing games and taking alot of time getting them just right. Is this just an extension of that or is there something more. How many gamers out there see these units as an extension of there own persona? Does their value as a combat unit take seconds to the emotional attachment to the unit (As a die hard Dark Angel player, the lack of uber-HQ units means I tend to go with the latter view)
Let me know your thoughts and share those pics of your key HQ's!